Proudly committed to offering only the freshest fish and shellfish available anywhere.
With two Cape Cod seafood market locations—in Osterville and on Barnstable Harbor. Both have great takeout menus. Plus there's patio dining at our Barnstable location.
OSTERVILLE FISH
Market + Takeout
The market that made us famous for our fresh
local fish and shellfish.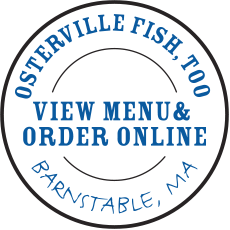 OSTERVILLE FISH, TOO
Market + Take Out + Patio Dining
Offering a wide selection of fresh local seafood, Cape Cod's favorite takeout menu, and patio dining.
Offering only the Freshest Fish
and Shellfish Available Anywhere
WE WELCOME COMMENTS AND QUESTIONS!